Gundam Unicorn on sales now in Hong Kong! At 335 HK Dollars, that's about
200 Yen cheaper
than the official price of 5,000 Yen. The release date is obviously earlier than stated, so I wonder if Malaysian hobby stores will also put this kit on sales earlier?

Gundam Unicorn is the last MG this year, and Destiny Gundam is the second last one, even though it was released two months back.



"Each customer is limited to a maximum purchase of three boxes each". No kidding, that's what the banner said - just goes to show how hot this model is right now.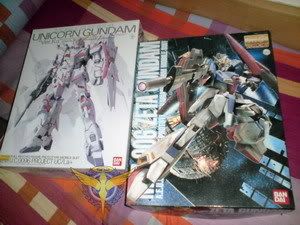 The box is the same size as MG Zeta Ver. 2.0...



...exactly the same :)
All images from
Hong Kong Model League
.