A new announcement of upcoming Gundam models and figures from
Gunota Headlines
.
Bandai is heightens everyone's curiosity by announcing MG Gundam Ver. OYW - TV color version, which will come out in July. It has being officially labeled NOT as MG 100.
So, it seems that MG 100 is not going to be Gundam RX-78-2 then, since the TV color version is being announced. Imagine how boring it would be if we have two RX-78-2s coming out one after the other. I wonder what is the feeling of those who cast their votes for RX-78-2 in the
MG competition
. Must be like an April Fool joke being played on them :-) But there is still ample time for thinking about another MS to vote for though.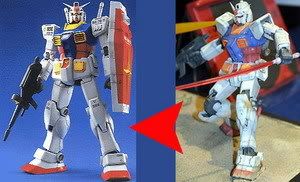 The TV version will be of brighter color, as seen in MG Gundam Ver. 1.5. I'm sure a new set of decals will be designed to suit this new model as well. Images from HLJ - MG Gundam Ver. 1.5 and Ver. OYW
Also,
nice prediction
by
Danny Choo
, Musha Gundam is going to come out as a GFF release. It will be able to convert between a normal Musha Gundam and the on wearing tons of armor mounting all sorts of armaments. Can't wait to see that, even though the release date is at the moment still unclear.
Other releases include HGUC Blue Destiny Unit 1 (1,575 yen), HCM-Pro Zaku II type JC (2,100 yen), HCM-Pro Akatsuki full set (5,460 yen). Except for HCM-Pro Zaku II type JC which will be released in June, the other two will come out in July. Zaku II JC is a variation of the Ground Type Zaku II (MS-06J), which recently enjoyed its Ver. 2.0 MG treatment. You can see its action in the 08th MS Team.
Zaku II Type JC has three spikes on its shoulder shield, and the color for the conductive pipes is different as well. Image from HLJ - HG 1-144 Zaku II