Too bad there's no image to support this post, but the updates from Gunota Headlines really throw me off my seat.
Five Gundam items coming up are:
1. MG Char's Zaku II Ver. 2.0 with loading crane (May)
2. MG Char's Gelgoog Ver. 2.0 (July)
3. HGUC Ground Type Gundam (June)
4. BB Senshi Blu Duel (N/A)
5. HCM-Pro Destroy Gundam (May)
Like I said in my
previous post
, Char's red Zaku II will always come out almost immediately after the green one's being released. What surprises me is the announcement of Char's Gelgoog Ver. 2.0. In my opinion, that's about the last previous MGs to require an upgrade to Ver. 2.0 desperately. The
old one
does have a lot of spaces for improvements, mainly its posability and action. I just didn't expect it to be this fast~
This is really the year for Zeon fans like me. Wuhhuh~
Also, as being predicted in my
other post
, HGUC Ground Type Gundam is going to be out as well. Don't think that I'm psychic or something, it's very obvious from the design of HGUC Blue Destiny. So, pretty soon, we are going to get Gundam Ez8, Ground Type GM, GM Sniper, and GM Head (a Ground Type Gundam with a GM's head, piloted by Karen Joshua in the last two episode of The 08th Gundam Team) as well.
Not to mention Norris Package's Gouf Custom as well!!
Can't wait for that.
As for Stargazer fans, SD Blu Duel Gundam is also being announced. Get this to complete the full team of SD Strike Noir and SD Verde Buster. But I guess the bulky armor is going to be a problem for action, as seen in
SD Duel (Yzak Jule's version)
.
The biggest shock is HCM-Pro Destroy Gundam.
GFAS-X1 Destroy Gundam
man!!
38 meters and 56 meters in MA and MS mode respectively, may not be intimidating to MG or PG models since the difference in scale is too far apart(1-100 for MG, 1-60 for PG and 1-200 for HCM-Pro), but if you have
HCM-Pro Freedom
and
Impulse Gundam
, putting all of them together is going to be quite a sight. o_0
Images from
MAHQ.net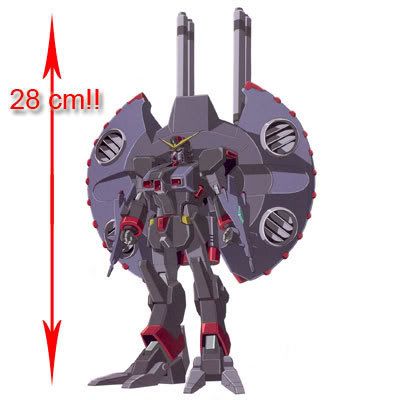 Can't wait for that as well.